Tubu-Tubu is a nickname for native grains. "Tubu" actually refers to granular items, such as small seeds, beads, beans and balls. Tubu-Tubu is food to create healthy future.
Cooked in harmony with the universe, Tubu-Tubu Future Food, new cuisine from Japan creates new flavors based on native grains.
"Tubu-Tubu Miracle Sweets" are made from plant food and natural flavors, and are free of refined sugar and dairy products.
Being full of energy, they will help you awaken your mind and body.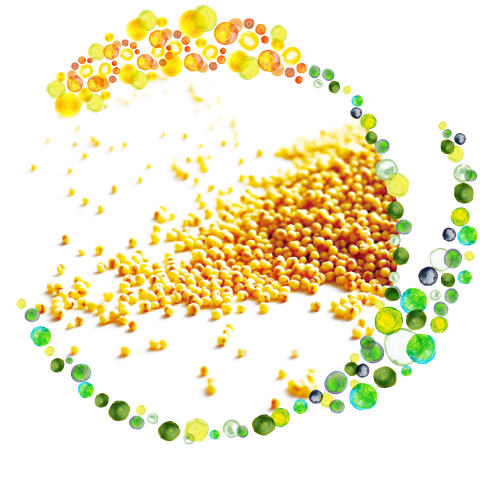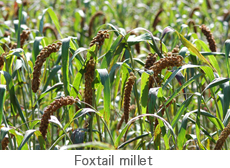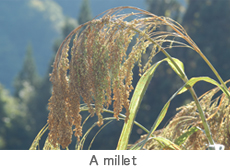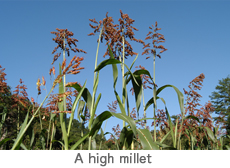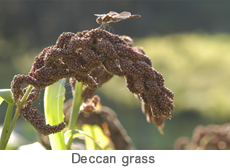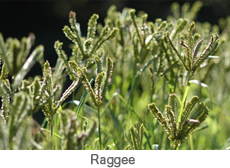 Native grains are a very attractive food for the 21st Century. Familiar as staple foods full of nature's spirit, they are popping up in all sorts of new and exciting recipes.
Native grains are now attracting attention as ideal food ingredients for a future in which people will face the three serious dangers of 'ill health', 'a degraded environment' and 'food shortages'.
In Japan today stalks of rice are known as /ine/. In ancient Japan, however, all kinds of grain plants including millet, sorghum, wheat, barley and buckwheat were called /ine/.
In ancient Japanese, /i/ meant 'life', and /ne/ meant 'roots'. Therefore, /ine/ meant 'the roots of life'. This was a very exciting discovery for me.
People in ancient Japan cultivated what they called 'the roots of life'. This must have warmed their hearts and filled them with confidence. What a wonderful life they had! I was filled with joy to discover a time when the spirit of life was so closely connected to lifestyle.
I thought that by bringing back to our table the native grains, which nurtured the people in Japan for a long long time as 'the root of life', we could return the natural balance to our mind, body, food and lifestyle. This is the main reason why I decided to devote my life to Tubu-Tubu Future Food.
It has been almost 30 years since I started my Tubu-Tubu Future Food diet. Since then, by being at one with nature, I have become livelier and have felt comfortable year after year.
Recent mounting scientific evidence has established how perfect the nutritious balance and quality of native grains is. I believe they contain more 'life force' than can be measured by science. Within each grain is crystallized the tasty nutritious essence of the earth.
Reviving cultivation of native grains also makes possible a return to traditional recycling agriculture practices in mountainous areas. This improves the soundness of cultivated areas.

In Japan we've forgotten the meaning of food, the value of grains - the milk of the Mother Earth. We've stopped eating grains especially acclimated to Japanese soil and seasons. These staples used to power our resistance and immunity, and we wonder why we grow weaker and weaker!
Day after day, Mother Earth has been calling out, "Drink my milk. Eat your grains, my kids! Get your body straight!"
And then one day thirty years ago, something in me empathized with what she was saying.
I kept trying my hand with native grains day after day though I was not sure what I was doing. Now I finally understand. My role is to spread Mother Earth's message through Tubu-Tubu Future Food.
I asked myself, "Is this why I studied design? To learn how to express Mother Earth's call in cookery? Is this why I worked for so many years training in administration and marketing? To gain the know-how to tell everyone about Tubu-Tubu Future Food?"
Yes! Now the name Tubu-Tubu cooking and its philosophy is recognized throughout Japan.
What a cherished role I've been given! I try out new dishes so I am the first to enjoy their miracle of deliciousness. Each moment I am absorbed in work and play with Tubu-Tubu and I feel at one with Mother Earth. I can pass on her gifts of deliciousness, inspiration, and health.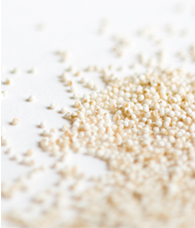 Tubu-Tubu: The perfect new gourmet ingredients for the 21st century - delicious, pleasing to look at and highly nutritious!
'Tubu-Tubu' is the nickname I have given to native grains. 'Tubu-Tubu' is a charming name that perfectly expresses the character of native grains. 'Tubu-Tubu Future Food' gives you the joy of a healthy and natural grain-based vegetarian diet. As a result, your body and mind, as well as Mother Earth, will be restored to true health. Let's start cooking 'Tubu-Tubu' style.
Tubu-Tubu' is the generic term for a wide variety of grains. Each variety has its own unique size, shape, color and taste. They are very attractive, highly nutritious, and very delicious, therefore they make perfect ingredients for cooking.
Various kinds of 'Tubu-Tubu' can easily replace meat, fish, eggs and dairy products. Moreover, 'Tubu-Tubu' is voluminous and easier to digest.
Through my experience cooking 'Tubu-Tubu' every day I feel that each individual grain contains all the essences of deliciousness that exist in this world.
'Tubu-Tubu' offers very enjoyable food ingredients for everyone. Not only for people who are something of a gourmet, but also for people with strict dietary requirements and for people who are aiming to be vegetarian.
When you eat 'Tubu-Tubu' dishes, your mouth will immediately be filled with their unique deliciousness. This deliciousness also deeply fills your body and heart.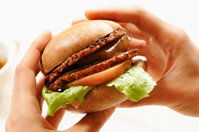 Delicious! Tubu-Tubu dishes fulfill your taste, cells and mind.
Modern nutritionists have advocated the importance of dishes made from animal products as major sources of nutrition. Additional research, however, strongly favors whole grain staples, which contain a better balance of nutrition. Having grown accustomed to the sight and volume of animal products, it can seem difficult to satisfy our appetites with grains.
You will find 'Tubu-Tubu' grains very colorful, adaptable and voluminous. Their variety of taste and texture allows you to simulate various kinds of animal product dishes. The best thing is eating a wide variety of nutritious 'Tubu-Tubu' dishes that taste just like the gourmet foods we love.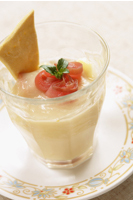 'Tubu-Tubu' attraction as a natural sweetener. Let's enjoy 'Tubu-Tubu Miracle Sweets'
It has been quite a long time since sweets were identified as the cause of cavities and poor blood circulation. However, it is very hard to resist the temptation of sweets. After eating sweets you may feel bad because you were ' not supposed to'. Additionally, many people cannot eat dairy products or eggs because they are allergic to these foods.
Here comes 'Tubu-Tubu'! 'Tubu-Tubu' grains contain a natural sweetness and milky essence wrapped in natural fiber. This enables you to cook rich sweets without using sugar, cream or eggs. You can proudly enjoy Tubu-Tubu Miracle Sweets because they supply perfectly balanced nutrition to your body and satisfaction to your mind.










On March 11, 2011, an unprecedented earthquake and tsunami hit Japan. At the same time, a terrible nuclear accident occurred, and as the situation continues, the severity of the crisis has now exceeded the accident at Chernobyl both in duration and in radioactive materials released. The entire country has been covered with radiation. In the aftermath of this earth-shattering catastrophe, German Chancellor Angela Merkel decided to scale back operations at nuclear power plants in Germany, with the aim of ultimately eliminating its dependence on nuclear energy. Runaway patriarchal culture has led to the dependence on nuclear energy, and the abuse of this dangerous source of energy has become a symbol of that culture. The rapid declaration of the intention to eliminate nuclear power by a female leader is now a symbol marking a time for women to change the world.
Japan is the only nation ever to have suffered a nuclear attack. Diet was then shown to be a factor in warding off the harmful effects of radiation; in Nagasaki, a 29-year-old doctor, Tatsuichiro Akizuki, was 1.4 kilometers from ground zero at the time of the nuclear blast. Refusing to leave, he devoted himself to treating the victims. His tireless efforts saved many lives, including medical staff, by helping their bodies recover from radiation injury through proper diet, upon which Tubu Tubu is based. Dr. Akizuki continued his work until his death at the age of 89. Because we feel that it is important to hand down his legacy to as many people as possible, Tubu Tubu continues to play an active role. ?As more information comes to light about this situation, people have been feeling greater anxiety, fear and anger. This negativity will pull more negative reality. Switching our diet to Tubu-Tubu Future Food, awakens the body's full potential, which greatly prevents the harm of radiation. It is important to rebuild our lives by enjoying our daily food in a bright, positive and thankful spirit. Tubu Tubu has been making efforts to convey this message. The Kami from the Great Mother Sun in all of us must be protected!

Yumiko Otani "Tubu-Tubu Food Designer Yumiko" is the creator of "Tubu-Tubu Future Food". She graduated from the Industrial Design Department of National Chiba University's Faculty of Engineering. In 1982, she began studying traditional Japanese foods, and has since been a vegetarian, establishing the non-governmental organization (NGO) "Tubu-Tubu"(formerly ILFA). In 1996, she published "Mirai-shoku, Kankyo Osen Jidai o Oishiku Ikinuku" (Future Food, For Surviving in the Time of Environmental Pollution), and started the "Life Seed Campaign" under the concept of "changing kitchens and farmland to enrich the Japanese diet with native grains", and began organizing "Future Food Seminars" to teach her theories and skills with regard to foods that can revitalize the body.
In 2000, she began introducing her concepts to international audiences, and by 2004 Tubu-Tubu Future Food was introduced at 'Terra Madre', a slow-food conference of 5,000 producers. More recently, Yumiko has found that Tubu-Tubu Future Food has a significant meaning, allowing women to undergo a spiritual awakening, and this prompted her to start holding "Tennyo Seminars" on female empowerment. She has written over 30 books on native grains and recipes using them. Her most recent books are Simple Tubu-Tubu Gohan for Babies and Moms, Tubu-Tubu Cooking Start Book (Gakuyo-shobo) and Gohan no Chikara (KKLongsellers). Yumiko is now a representative of the NGO "Tubu-Tubu" and a member of the Millet Society of Japan. She currently manages Fu Future Living Laboratory, inc., which organizes seminars, and Team E, which manages restaurants and cafes, as part of her efforts to understand the relationship between the universe and humanity.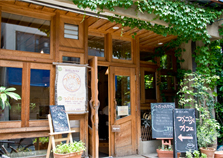 Tubu Tubu Cafe Tokyo Waseda
Tubu-Tubu Miracle Sweets & Tubu-Tubu Peace Food Lunch
Organic & Vegan Vegetarian
Address:143-5, Bentencho, Shinjuku-ku, Tokyo, Japan
Phone:+81 (3) 3203-2093
> View Larger Map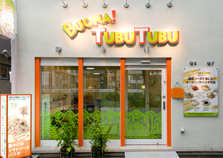 BUONA! TUBUTUBU Tokyo Kagrazaka
Organic pasta and pizza with creative Tubu-Tubu sauce.
Organic &Vegan Vegetarian
Address:1-17-9 Sekiguchi, Bunkyo-ku, Tokyo, Japan
Phone:+81 (3) 6457-5045
> View Larger Map